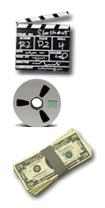 The Academy of Motion Picture Arts and Sciences has just published a report on digital preservation and costing of digital movies. The New York Times discusses the report here, noting some key costs, comparison of digital and analogue tape and making mention of some detailed case study work. Unfortunately the report itself (entitled "The Digital Dilemma") isn't online but apparently you can order a paper copy from:
Ashley Head, AMPAS, Science & Technology Council, (phone) 310-247-3000 ext. 358 or e-mail: counciltemp@oscars.org
There is also some related discussion on the digipres list, here.
More here, when I've read the report itself!